WIAW2 (PB recipes galore!)
Hey all! I'm doing another What I Ate Wednesday post today, mostly because I actually made really good recipes that I've been meaning to share! And blog.com was down last night so I had to wait until today to post this.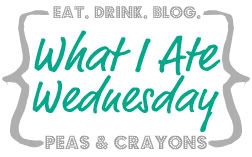 Breakfast: All the hot weather here has made me want nothing but smoothies and drinks and other cold things, so I started the day off with a delicious green smoothie:

I know some people think this looks unappetizing, but this was so good and creamy—it seriously tasted like a peanut butter cup! Plus it's a super energizing and cleansing way to start your day.
Peanut Butter Green Smoothie
Serves 1. Vegan, gf, raw

Ingredients:
½ c almond/other nondairy milk

½ large banana

1 scoop protein powder (I used Vega vanilla chai flavor, which I got super on sale from www.iherb.com!! Use my coupon code PUF899 to get $5 off your order!)

1 T natural peanut butter

1 cup/some big handfuls of spinach

1 t – 1T whole psyllium husks (optional, but it helps make it thicker and adds fiver)

5 or 6 ice cubes
Directions: Blend it all up in a high speed blender! I like to start by blending the milk and banana first, and then adding the powder, peanut butter, spinach, and finally ice. It just tastes better to me that way. For a raw version, use raw nut butter/nut milk!
Each serving has ~320 calories, 35 g carbs, 13 g fat, 21 g protein, 17 g fiber, and 7 g sugar
Smoothies. Reason #134 for why I love summer
especially with a bendy straw
Lunch: for lunch I had leftovers of one of my favorite, easy stir fry recipes: tofu with peanut-ginger sauce, from Eating Well. (Lots of peanut butter today, but I don't mind!) I'm usually not a huge tofu fan, but this is one of the first tofu recipes I ever tried and it's still one of my favorites! Plus, I loooove anything with peanut sauce and this one's easy and really good!
Tofu with Peanut Ginger Sauce
Serves 4. Vegan, gluten free
Ingredients:
Sauce:
5 T water

4 T smooth natural peanut butter

1 T rice vinegar

2 t soy sauce or tamari

2 t honey

2 t minced ginger

2 cloves minced garlic
Stir fry:
14 ounces extra-firm tofu

2 t extra virgin olive oil (or other oil)

4 cups spinach

1 ½ cups sliced mushrooms

(I add in whatever additional veggies I have too—carrots, bell pepper, etc.)
Directions:
Prepare sauce by whisking water, peanut butter, rice vinegar, soy sauce, and honey together until very smooth. Stir in ginger and garlic.

Drain and rinse tofu and pat dry. Cut the tofu block into blocks of our choice of size; you can also gently crumble them into smaller, uneven pieces.

Heat oil in a skillet over medium heat. Cook tofu in a single layer without stirring for about 5 minutes, until the pieces start to get golden brown on the bottom. Then stir and continue cookie until all sides are golden brown, another 5-7 minutes.

Stir in spinach, mushrooms, and additional extra veggies. Add sauce and cook, stirring, until the vegetables are lightly cooked, about 1-2 minutes more.
According to Eating Well, each serving has ~220 calories, 15 g carbs, 14 g fat, 12 g protein, 4 g fiber, and 3 g added sugar. Additional veggies would probably add another 40 or so calories and some more fiber!
This dish is best when served over a grain, especially brown rice. Yummmm! It's almost as good as Thai food, but that's too delicious to beat!
Snack: Not pictured, but I had carrots, bell pepper, and broccoli dipped in hummus, and a nectarine!!! Nectarines and peaches: reason #257 for why I love summer. My last bio lecture for the year was cancelled, so I went home to make this snack, and ate it while I studied checked out other food blogs.
Which reminds me, have you all entered Lauren's giveaway over at Whole Wheat or Bust? She's giving out three bottles and one box of NuNaturals stevia! Stevia is a 0 calorie sweetener made from the stevia plant. Since other 0 calorie sweeteners, like aspartame and sucralose, are so bad for you, I have hesitation about stevia. But supposedly, it's natural and alkalizing, and it's been approved in the European Union for years, so that makes me more comforted. I say stick to natural sweeteners most of the time, and if you're going to use stevia, definitely use NuNaturals! (Truvia has other fake sweeteners in it). So enter Lauren's giveaway, and let me know, what do you think about stevia? Yay or nay?
Dinner: for dinner I went with Luke to Fish's Wild, a restaurant that gives you huuuge portions of fresh seafood and vegetables for a pretty low price (this was his choice—he said he's helping me prepare for Spain, where I will definitely opt for seafood over pork, which is really popular there). I got Cajun mahi mahi (since that's usually a more sustainable seafood option, according to Seafood Watch), and I was so hungry, I pretty much finished the whole plate! It was all really good, and even though it was a ton of food, I didn't leave feeling overly full. While I won't be going here a lot due to their lack of non-meat options, overall it was a very good choice! And I actually did remember to bring my camera to the restaurant, but forgot that the SD card wasn't in it. So instead I'll post a picture of what I had that I found on their website:
And that was my day! Ta-da!


Question: Do you make green smoothies? What sweetener do you use, and have you ever tried stevia? What's your favorite quick and healthy restaurant?
Tags: am, breakfast, eating well, fish's wild, giveaway, gluten free, Green, healthy, mahi mahi, peanut, protein, raw, Smoothie, stevia, stir fry, thai, tofu, vega, vegan, what i ate wednesday, wiaw