My First WIAW
I'm finally jumping on the What I Ate Wednesday train this week!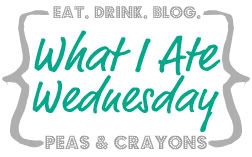 I didn't think anyone would find reading about all my day's eats very interesting, but WIAW posts are taking over the blog world! What I Ate Wednesday, started by Jenn over at Peas and Crayons, is a once-a-week food diary where foodie bloggers can share recipe ideas and also find out about other healthy food blogs. You can read more about the idea on Jenn's blog!
So, onto my Wednesday:
Breakfast: Breakfast was my paleo cereal–this time chopped walnuts and almonds topped with blueberries, strawberries, shredded coconut, and cinnamon. Yummm. I was running late so I put it in a jar and took it with my to class.
Just add almond milk and good to go!
Lunch: lunch was a biiiiig taco salad, since I still feel a little lacking in veggies. I topped some mixed greens with my tempeh taco meat, black beans, and chopped bell pepper and tomato. I didn't have any vegan cheese, but that would also be a good addition.
So satisfying! I didn't know what kind of dressing to use, so I topped mine with a big glop of guacamole. Win.
Snack: I originally planned to take a 20 minute power nap on the grass outside on of the lecture halls on campus, but 20 minutes accidentally turned into over an hour. I skipped snack and my bio lecture, oops! Usually I can't nap during the day, so I guess I needed it.
Dinner: for dinner I went to Farm to College night!! Twice a year my school's dining services hold a special food event where they try to source as much of the evening's meals from local, sustainable farms. They held it outside on campus, and there was live music, taste testing booths, free plant giveaways, and lots of delicious, fresh food!
I tried an endive boat appetizer, a tossed salad with citrus tofu, and a fair trade brownie! All were quite tasty, and all were locally sourced! Just another reason to love my school
And now I am leaving to start my first day of manager training!! Yay!
Question: What do you think of What I Ate Wednesday? What was the best thing you ate today?
Tags: breakfast, cereal, davis, dinner, farm to college, lunch, paleo, salad, taco, tempeh, vegan, what i ate wednesday, wiaw